For many of us, Alaska fishing trips are a tremendous commitment in time and money. The crew at Saltwater Safari Company is very aware of this and understands how important your long-planned Alaska fishing charter adventure can be in Seward, Alaska.
Seward, Alaska Charter Fishing
Halibut, Salmon and Combo Fishing Trips
Full Day Seward Halibut fishing
Full Day Seward King Salmon Fishing
Full Day Seward Silver Salmon Fishing
Full Day Combination Charters That Target Halibut & Salmon
Seward Long Range Fishing Trips Into Remote Alaskan Wilderness
Our Safari Lodge is the premier Seward Alaska lodge and is located right on the boardwalk in the Seward Boat Harbor. The lodge is in the heart of all the action and an easy walk to many restaurants, pubs and shops.
The premier Seward Alaska lodge
At Safari Lodge you will have a private, front row seat in one of the most picturesque seaside ports in Alaska. All rooms offer breathtaking views of the majestic Resurrection Bay, the Seward Boat Harbor and the surrounding mountain peaks. Local wildlife can be seen out your back door, including sea lions, sea otters and eagles.
Each luxurious room offers plush, queen size beds, cable television and exquisite granite and stonework. All rooms are decorated with original works of art by Alaskan artists and impressive Alaskan Wildlife trophies.
Safari Lodge can accommodate up to 18 guests per day in six waterfront suites with two queen size beds and three waterfront suites with one queen size bed. All rooms have a private bath.
Fishing isn't a hobby, it's a committment!
The ultimate deep-sea Alaska fishing charter adventure awaits you when you fish with Saltwater Safari Company in Seward, Alaska. Not only will you be fishing Alaska's most productive long-range fishing grounds, you will be doing it with the company that pioneered the entire region. Saltwater Safari Company maintains its reputation as the charter service that targets big halibut, lingcod, rcokfish, salmon shark and silver and king salmon and enjoys consistent record catches.
Saltwater Safari Company will take you to the outer limits of Seward's richest sport-fishing grounds. Our vessels' range and speed enable us to venture beyond areas exhausted by heavy sport-fishing pressure. Targeted species include halibut, lingcod, rockfish, silver and king salmon and salmon sharks.
Saltwater Safari company has spared no expense in our commitment to excellence in providing you the best Alaska fishing experience. We provide only the finest Alaska fishing charter vessels available.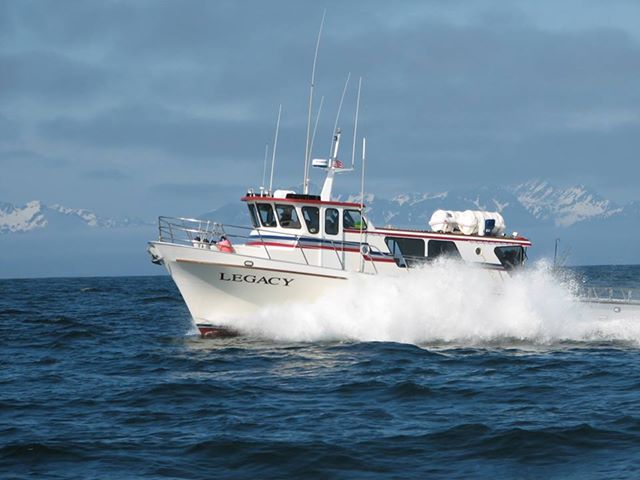 The 53 foot Legend and 53 foot Legacy, built by Delta Marine Industries, are the pride of the fleet and outfitted with the most serious sport-fisherman in mind. These fast, powerful, long-range fishing machines are powered by twin Caterpillar 660 hp diesel engines and are capable of speeds in excess of 25 knots. They are designed to withstand the inclement conditions that are sometimes associated with the Alaska Gulf Coast. These vessels are inspected by the U.S. Coast Guard annually and have always met or exceeded their stringent requirements.
Each boat comes appointed with everything required for a safe and pleasurable trip, including comfortable cabin furnishings, a complete array of sophisticated electronic navigation and communication equipment, state-of-the-art fish finding equipment and all the necessary emergency/survival gear. Legend and Legacy are immaculately clean and strictly maintained.
CAPTAIN BOB
Captain Bob Candopoulos, owner of the Saltwater Safari company and skipper of the 53 foot Legend. He is licensed by the U.S. Coast Guard as Master of vessels up to 100 gross tons. Captain Bob has a wealth of experience gained through his 26 years of chartering out of Seward. He was the first Seward fishing guide to realize and explore the potential of the long-range fishing possibilities in areas like Montague Island and Middleton Island have to offer.
Captain Bob is heralded as one of the most sought after fishing guides in Alaska and has ben featured on ESPN's New American Sportsman Show where he guided actor and comedian Jim Belushi for giant halibut, and NFL great Kevin Gogan for Salmon Shark. Captain Bob is also consider the pioneer of Alaska's Salmon Shark fishery. He has worked extensively with the Alaska Department of Fish and Game, the Virginia Institute of marine Science and Scripps Oceanographic Institute, to better understand the migratory patterns and physiology of this northern cousin to the Great White Shark.
Captain Bob had spent more time fishing and exploring this area than any other fishing guide in Seward.
CAPTAIN STEVE
Captain Steve Babinec, co-owner of Saltwater Safari company and skipper of the 53 foot Legacy is a life-long Alaskan. Captain Steve also is credited with his efforts to establish Seward as a top fishing destination. He is an avid fisherman who is licensed by the United States coast Guard as Master of vessels up to 100 gross tons. With over 25 years of boating and fishing experience in Alaska waters Captain Steve has proven himself to be an innovator of halibut fishing technique and terminal tackle design. His knowledge of the tides and currents of this region has made him a consistent top producer of some of the largest catches to hit the Seward docks.
Captain Steve has a competitive drive that makes him go further and fish harder than most area captains. He is credited with constantly pioneering new halibut hotspots and techniques. He specializes in hunting for big halibut and is also regarded as the best combo fisherman in the harbor, oftentimes limiting out his entire boat with halibut, salmon, lingcod and rockfish – all in a single day.
Capt. Bob Savino started working for Saltwater Safari as a deckhand when he was 15 years old. He is the nephew of Capt. Bob Candopoulos and spent countless hours on the Legend learning everything he could about boating, fishing and the local knowledge of the region and fishery, which his uncle pioneered.
For the past three season, Capt. Savino has run both of our vessels, Legend and Legacy and has some very impressive catches to his credit. He is a fun loving and easy-going guy, but is known to get very excited when the bite is hot! He especially enjoys targeting large halibut!. In the off-season, Capt. Savino spends his winters in central Florida where he is a fresh water guide and enjoys running airboats!
GO FISHING WITH SALTWATER SAFARI
Seward Lodge and Fishing Charters Rates
Exclusive group rates available upon request for any of our vessels.

ALASKA FISHING CHARTERS FOR HALIBUT, SALMON, ROCKFISH, LINGCOD
Halibut Fishing Charters Seward, Alaska
Fishing isn't a hobby, it's a commitment!
Clear, deep-water gulf currents upwelling against offshore reefs and ledges create a nutrient-rich marine ecosystem with heavy bait fish concentrations, drawing huge game fish. This includes all Alaska Gulf Species. Incredible catches are a regular occurrence in this unique environment and anglers from all over the World converge here to try their hand at Alaska halibut fishing. Our fishing lodge is the best choice for your once in a lifetime Seward fishing trip.
The Pacific Halibut is the most sought after and prized Sport-Fish in Alaska waters. Capable of powerful, high-speed runs, they are the heavyweight of all bottom-fish species. These fish have been known to exceed 500 pounds and are considered the hardest fighting bottom-fish in the World. Our Seward Halibut Fishing Charters will deliver excitement on your next Alaska fishing trip.
Although our primary target is Alaska halibut fishing, we fish in areas where all species of bottom-fish tend to congregate. It is not uncommon to land trophy Alaska Lingcod, Alaska Rockfish and Alaska Salmon on our Seward Combo Fishing Trips.
Seward Charter – Halibut & Salmon Fishing Charters
Alaska Halibut and Alaska Salmon combo trips
Alaska Halibut Fishing and Alaska Salmon Fishing Combo Trips are available for the serious angler who wants to try their hand and stamina at both big-game stand up battles for Halibut, and light tackle, fast-action fishing for salmon, all in a single day.
The Alaskan Pacific Halibut is the most desired & prized Sport-Fish in Alaskan Waters. Halibut are powerful and capable of high-speed runs; they are the heavyweight of all bottom-fish species in Seward, Alaska. Seward Halibut Fishing Charters are Famous because these fish are considered the hardest fighting bottom-fish in the World. Our Alaska Halibut Fishing Trips will deliver excitement on your next Seward fishing charter.
Seward offers a limit of Six Silver Salmon per-person (subject to change), per day, this fish provides Fiesty & Furious light tackle action for anglers of all skill levels. Our Captains are knowledgeable Alaska Salmon Fishing Charter Professionals that will get you hooked up with Furious Seward Silver Salmon in no time.
Long considered the ultimate prize for Alaskan Anglers, the Alaska King Salmon (Chinook) also swims the waters off of Seward. Seward King Salmon Fishing Charters are always a favorite for most anglers that visit our Alaska fishing lodge. King Salmon are most prevalent in this region from April through June, but are regularly taken during Silver Salmon Fishing Charters.
Depending on the season, we can also customize your Alaska combo fishing trip to go halibut fishing, lingcod fishing and rockfish fishing.
MAKE YOUR RESERVATION
1210 4th Avenue
Seward, AK 99664
1-(907)-224-5232
WE SPECIALIZE IN CORPORATE RETREATS
April 1 – May 31, 2015
June 1 – August 31, 2015
Call for rates. Rates do not include 11% KPB sales/bed tax.